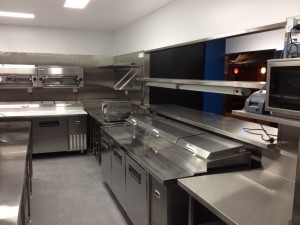 Australian Manufacturers
Star Manufacturing is a Brisbane based company offering locally made stainless steel fitouts including kitchens for mining camps, retail and hospitality outlets; customised stainless refrigeration; exhaust canopies and ducting; and architectural stainless steel. We offer customised solutions that are purpose built for the requirements of our clients.
Experienced Team
The team at Star Manufacturing have over 15 years' experience in the stainless steel manufacturing industry. We bring our expertise to the table to provide seamless delivery of excellent stainless steel fitout solutions to our clients.
Customised Stainless Steel Solutions
Star Manufacturing specialise in providing Australian businesses with customised stainless and refrigeration works with manufacturing excellence. We pride ourselves in providing quality workmanship that you can trust.
See Our Stainless Steel
You can see examples of our work all around Australia – it is likely that your local butcher, baker, restaurant or club has used our customised stainless steel manufacturing services.
Local Employers
We employ highly qualified industry workers as well as apprentices who we are training in this industry. Our team are motivated and enjoy creating stand-out customised stainless steel fitouts.
It's All about Relationships
We work hard to maintain our position as industry leaders, and on building mutually beneficial relationships with all our clients. We are making our mark on this industry in Australia by providing excellence in product and service.
Our Background
Star Manufacturing began our operations in 2013. Our company was created by industry members who saw a real need for a quality Australian stainless steel manufacturer offering professional standards and service.
What Makes Us Different
Our real point of difference is that our customised stainless steel kitchen fitouts and refrigeration are locally manufactured by a team of industry experts. Our long-term involvement in the industry means that we understand what our clients need and are able to respond to these requirements quickly and well.