Stainless Steel Fabrication Brisbane
Star Manufacturing provides customised stainless steel fitout solutions manufactured in Australia.
We offer turnkey solutions including design, build and installation of stainless steel fitouts with seamless delivery.
Architectural Stainless Steel
Star Manufacturing specialise in manufacturing custom designed stainless steel for architectural elements.
We manufacture handrails including horizontal steel tube handrails (perfect to complement the shape of your building); custom designed handrails for staircases, walkways and verandahs; and tubular stainless steel handrails.
Stainless Steel for Retail
We service the retail sector including bakeries, butcher shops, delis and patisseries. We provide purpose-built cabinets, food preparation areas and refrigeration units.
Stainless Steel for Hospitality
Star Manufacturing designs and builds fitouts for the hospitality sector including commercial kitchens, hotels, clubs and specialised cocktail bars.
We also offer turnkey solutions including the design, manufacture and fitout of projects. We offer our clients a seamless fitout experience – custom built installations to suit your specific purposes.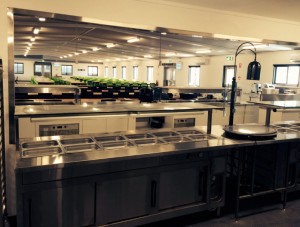 Stainless Steel for Mining Camps
Star Manufacturing designs, manufactures and installs site-specific mining camp kitchens to remote areas across Australia.
Our stainless steel fabrication Brisbane operations can service all your steel fitout requirements.
Please call us to discuss your project and how we can help you.